You are here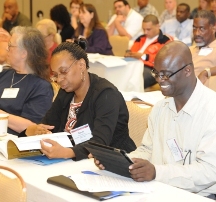 Preparing for the CPRP examination is a fairly large undertaking for most candidates. Passing the exam goes far beyond qualifying to sit for the exam. PRA's goal is for candidates to be well prepared, well educated and properly trained in the principles of psychiatric rehabilitation prior to applying to sit for the examination. Please be sure to thoroughly review the CPRP Exam Eligibility Requirements to determine the steps you will need to take to qualify.
Exam Eligibility
CPRP exam candidates must meet eligibility requirements in three categories: (1) academic preparation; (2) practical/work experience with adults and/or transition-age youth (16+ years old); and (3) qualifying education and training (professional development). 
Exam Fees
Submit the appropriate application and exam fee online: Member: $395; Non-Member: $515. Retake Fees: Member: $365; Non-Member: $485 (Fees are subject to change without notice). Exam fees are non-refundable and non-transferable.
Exam Dates & Application Deadlines
The CPRP examination is offered 3 times each year. Each testing window is open for a period of 2 weeks. Applications and fees must be submitted by the Application/Fee Deadline. Supplemental materials including, official transcripts, training logs and employment verification forms must be submitted by the date indicated for each testing windown. Applications completed post deadline will be referred to the next available testing window. Late applications will not be accepted.
CPRP Prep Course
Offered both online and in-person, the CPRP Prep Course is an instructor-led training designed to prepare you for the CPRP exam. The course facilitates interaction, in-depth information sharing and direct response to questions. Sign-up today!  
Study Groups
Candidates are strongly encouraged to form or join Study Groups with others planning to sit for the exam. Applications are due well in advance of the exam date, so you may want to begin the study process before you submit your application. This will also help to ensure your level of confidence at the time of application.
Practice Test 
In an effort to assist CPRP candidates in preparing for the exam, the Certification Commission has created an online practice test, containing 50 multiple-choice items (questions) from the seven CPRP practice domains. The items are of similar content and difficulty level as the actual examination. To pass the practice test, you must achieve a score of 72% or higher. Take the practice test to know where you stand with your knowledge. Applicants who purchase the practice test can attempt to pass the test three (3) times using the same login/password. 
Recommended Readings
The Certification Commission has compiled a list of recommended readings, consisting of documents and texts used in referencing exam items. Many of these resources are available directly from PRA, while others may be purchased through retail bookstores, or borrowed from public libraries. Reading these texts alone will not prepare a candidate for the exam.
Qualifying Education & Training
The majority of exam candidates will need to complete 45 contact hours of qualifying education and training in psychiatric rehabilitation, 4 of which must be in the field of Ethics. All qualifying education and training (professional development) hours must be earned within the three years preceding application. These hours may be earned in a number of ways, including, but not limited to, conferences, seminars, college or university courses, in-service trainings offered at your place of employment, or online. Through the Academy for Psychiatric Rehabilitation and Recovery, PRA offers a number of training opportunities, including webinars, instructor-led online courses, independent trainings, and the annual conference. Many state and local chapters of PRA also offer educational opportunities for CPRPs and CPRP exam candidates.
The Certification Commission accepts all trainings offered by PRA and/or PRA Approved Providers. Trainings in psychiatric rehabilitation and reflective of the seven practice domains of a CPRP provided by other organizations/agencies may also be acceptable; however, additional documentation may be required during the application process to ensure that the content of the training is relevant to psychiatric rehabilitation.
Psychiatric Rehabilitation Continuing Education and Training Log Use this form to record qualifying education and training (professional development) activities completed as you prepare to apply for the CPRP examination.