You are here
Make your voice heard on Capitol Hill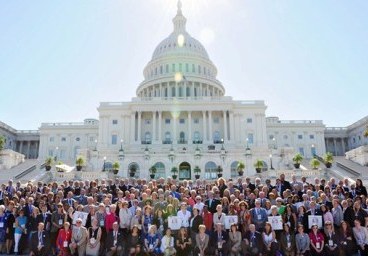 PRA continues to work with our colleague organizations in the Washington, DC area and beyond to join the chorus of opposition to federal legislative efforts that would reduce funding for SAMHSA, eliminate important consumer-based programs, and expand authorities for involuntary commitment. View our official statement on the proposed legislation.
Join PRA in Washington, DC for Hill Day: October 5-6, 2015

We invite you to lend your voice to PRA Advocacy by joining us for Hill Day 2015. We are proud to partner again this year with National Council, Mental Health America, NAMI, and other leaders in our community to present a united voice on key policy issues. We encourage you to join us to send a positive message to Congress about the importance of key programs for mental and behavioral health and to oppose legislation that would stop our progress in its tracks. Registration for this event is complimentary.
Make a difference
Capitol Hill Day is an important step in pursuing our legislative priorities and funding for recovery-oriented practice. Over 500+ behavioral health executives, administrators, board members, consumers, and community stakeholders will participate to make a difference. Your advocacy efforts matter — face-to-face interactions between legislators and constituents are one of the most powerful ways to impact public policy. Past Hill Day attendees have helped to:
Preserve Medicaid against a series of threats during deficit reduction negotiations.
Sign on 17 Senate and 29 House cosponsors for legislation to extend federal health IT incentive payments to behavioral health providers and organizations.
Win support for bills to expand the behavioral health system's capacity and promote public education about mental illness and addictions.
Schedule appointments with your Congressional Representatives. You can find contact information for your Senators and Representatives by accessing the House and Senate directories online at http://www.house.gov/ and http://www.senate.gov/. You can also call the US Capitol Switchboard at 202.224.3121 and ask for your Senators' or Representative's office. Once you have scheduled your visits, email us at info@psychrehabassociation.org and let us know the member you'll be visiting and time of your appointment so that we can coordinate this important effort. Tips for setting up your meetings:
Call the offices of your elected officials to arrange your meetings for Tuesday,October 6th
When calling, identify yourself, including the name of the organization you represent and where you are located, and ask to speak with the health legislative assistant.
Specify that the purpose of your meeting is to discuss "federal healthcare policy affecting people with mental illness and addictions and the community providers who serve them."
During the conversation, establish a date and meeting time.
Be flexible — Congressional staff schedules are busy, so take whatever time is offered – morning or afternoon – so long as the time does not conflict with your other appointments.
Make sure to leave plenty of time between Senate and House visits as it takes about 20 minutes to walk from the Senate side to the House side of Capitol Hill.
Questions and more information. Please contact the PRA public policy team at 703.442.2078 with questions and information requests.