You are here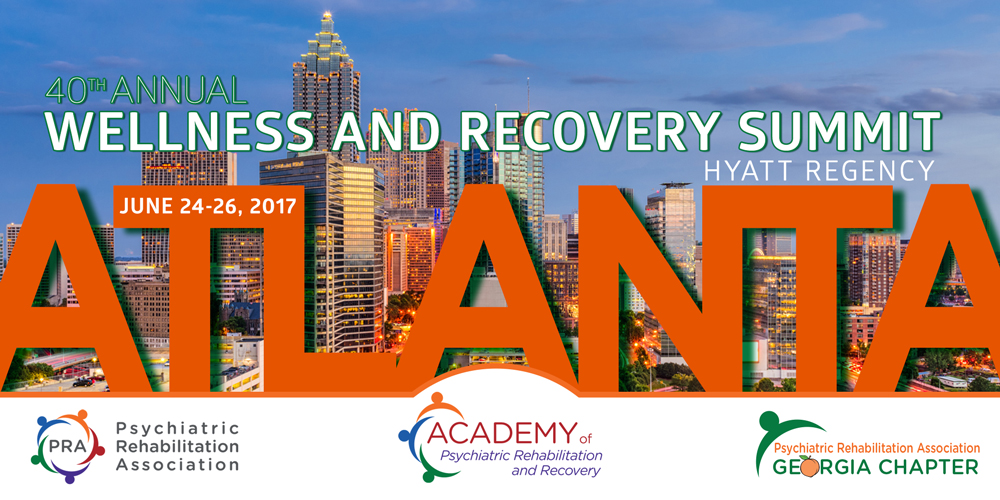 Thank You for Joining Us at the
40th Annual Wellness and Recovery Summit
June 24-26, 2017
with pre-conference activities beginning Friday, June 23rd.
Presented by PRA and PRF, in partnership with GA-PRA
Hyatt Regency - Atlanta, Georgia
Schedule | Continuing Education and Evaluations |Sponsorship | Presenter PPT Template | Presenter Handout Template
Thank you for attending
Never before has behavioral health been so important. Healthcare is changing by the moment and it is moving towards a system of care that reflects our psychiatric rehabilitation principles of self-directed care, self-managed care, wellness, resiliency and overall healthy functioning. Thank you for joining us at the 40th Annual Wellness and Recovery Summit. We hope that you enjoyed the wide range of content, from emerging trands to relevent skills and resources.  Brought to you by PRA/PRF, in partnership with the Georgia Chapter, GA-PRA, the Summit offered a comprehensive line up of in-depth psychiatric rehabilitation training, enhanced networking opportunities and special events.
The Psychiatric Rehabilitation Association (PRA) and the Psychiatric Rehabilitation Foundation (PRF) are committed to growing and training the recovery workforce through promoting wellness and recovery around the world. The recovery workforce is broad and diverse, working with:
Adults
Transition age youth
Children
Families
Congratulations to this Year's Awards of Distinction Recipients

Armin Loeb Award 
Larry Davidson, Ph.D

John Beard Award
Lisa Razzano, Ph.D.,
CPRP

Psychiatric Rehabilitation Practitioner Award
David Paone, M.Ed.,
CPRP
Leroy Spaniol
Educator Award
Meaghan Stacy,
Ph.D.
Sponsors of the 40th Annual Wellness and Recovery Summit
---
Questions? 
Please contact us at info@psychrehabassociation.org or by phone 703.442.2078.