You are here
Join PRA As a member, your organization helps PRA advance the availability and practice of psychiatric rehabilitation. Through growing and training the recovery and behavioral workforce, PRA works to ensure that all individuals with mental illness have access to the resources they need to recover. Membership and engagement in PRA not only furthers your organizational mission, but also increases your employee benefits, showing that you have a vested interest in your employee's professional development (ensuring they are up-to-date on information and trends and maintaining their credentials, licenses, etc.).  The engagement of leading organizations is the key to ensuring PRA serves as the "go-to" organization supporting you, your staff and the psychiatric rehabilitation field and community.  Increase your employee benefits. Membership and engagement in PRA shows that you have a vested interest in your employee's professional development (ensuring they are up-to-date on information and trends and maintaining their credentials, licenses, etc.)
Find your membership rate!  Organizational membership rates are determined by the revenue of the organizational.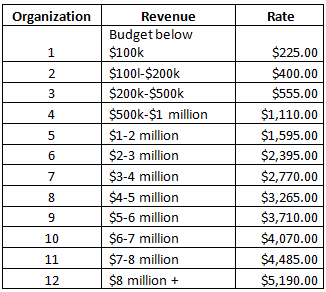 As an Organizational Member of PRA, take advantage of the following benefits throughout the year for your entire behavioral workforce: 
Value, Value, Value. With savings on PRA Academy programs, an Organizational Membership is a cost-efficient and comprehensive solution to provide professional development and continuing education credits to your staff all year long.
As an organizational member, your staff will receive organizational bulletins, public policy alerts and breaking information and updates on state and federal regulatory and legislative issues.
 
The organization will save money—each staff member received the discounted member rate on all educational opportunities offered through the Academy of Psychiatric Rehabilitation and Recovery, including our annual Recovery Workforce Summit, live trainings, webinars, on-demand courses.
Discounted exam fees for all staff under the organization's membership.
Discounts on publications offered through PRA's bookstore.
Hard copy subscription to the Psychiatric Rehabilitation Journal (PRJ) for primary contact and online access to the entire archive for staff.—A $165 value.
Network with colleagues: Volunteer on PRA Committees or engage with your local chapter where applicable.
Access to PRA's Individual member and Organizational member online directory—search for colleagues at organizations in your region or fellow CPRP's / CFRP's.
Discounted rates on the Career Center—PRA's Career Center offers employers targeted access to quality psychiatric rehabilitation professionals, along with quick and easy job posting and online job activity reports.
For your convenience, you may also download a digital version of our Membership Application that can be returned directly to PRA via email or fax!