You are here
Make Your Voice Heard on Capitol Hill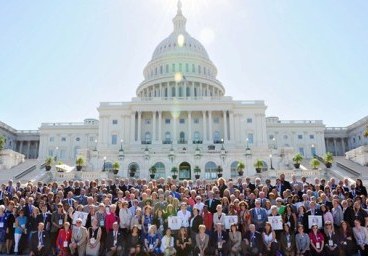 PRA continues to work with our colleague organizations in the Washington, DC area and beyond to join the chorus of opposition to federal legislative efforts to reduce funding for SAMHSA, eliminate important consumer-based programs, and expand authorities for involuntary commitment. 
Make a Difference: Planning your Congressional Visit
Hill Day 2019 is an important step in pursuing our legislative priorities and funding for recovery-oriented practice. Over 500+ behavioral health executives, administrators, board members, consumers, and community stakeholders will participate to make a difference. Your advocacy efforts matter — face-to-face interactions between legislators and constituents are one of the most powerful ways to impact public policy. Past Hill Day attendees have helped to:
Preserve Medicaid against a series of threats during deficit reduction negotiations.
Sign on 17 Senate and 29 House co-sponsors for legislation to extend federal health IT incentive payments to behavioral health providers and organizations.
Win support for bills to expand the behavioral health system's capacity and promote public education about mental illness and addictions.
Registration and Lodging
National Council Hill Day registration is free and open to all interested advocates.
Attendees are responsible for booking and funding their own transportation and hotel accommodations. Book a room at the Hyatt Regency on Capitol Hill at a special discounted rate.
Scheduling Visits With Your Representatives
Does PRA or the National Council Schedule visits for me?
Neither. Each state has a State Captain who will be your point of contact and who will coordinate the Hill visits for you and your fellow attendees from your state.
More information about State Captains will be released as Hill Day 2019 approaches.
In some states, the State Captain will set up all Hill visits and notify attendees so they can RSVP.
In other states, attendees schedule their own meetings and notify the State Captain so that he or she can help other attendees know which meetings to attend.
Either way, please reach out to your State Captain to let them know you're coming to Hill Day and learn how the process will work. You'll find details on how to contact your State Captain in your registration profile once you've registered for Hill Day.
How do I go about setting up my meetings?
First, contact your State Captain to let them know you will be attending and find out whether they are coordinating your state delegation's Hill visits. If your State Captain asks attendees to set up their own visits, use this page as a guide to get started.
Making Appointments for Hill Visits
We encourage you to schedule at least three visits during Hill Day 2019: one with each of the US Senators from your state, and one with your district's Congressperson in the House of Representatives. We also encourage you to schedule an appointment with the Washington, D.C. branch of your Governor's office. In addition, the National Council may ask you to participate in a targeted visit to a member of Congress who sits on a committee of strategic importance to our legislative goals.
Here's what you need to do to set up appointments for Hill Day:
Call the offices of your elected officials to arrange your meetings for Hill Day. Click here to find the contact information for your elected officials.
When calling your representative, identify yourself as one of their constituents, where you are located, and that you represent PRA, then ask to speak with the health legislative assistant.
Specify that the purpose of your meeting is to discuss "federal health care policy affecting people with mental illness and addiction and the community providers who serve them."
If you have a relationship with your representative, and believe you can obtain an audience with them personally, don't hesitate to ask!
Some offices may ask that you put your meeting request in writing. Use our sample meeting request letter.
During the conversation, establish a date and meeting time.
Be flexible — Congressional staff schedules are busy, so take whatever time is offered – morning or afternoon – so long as the time does not conflict with your other appointments. An ideal window of time to schedule is between 10:00 am – 4:00 pm.
Make sure to leave plenty of time between Senate and House visits, as it takes about 20 minutes to walk from the Senate side to the House side of Capitol Hill. If possible, try to schedule your Senate meetings together to avoid too much walking back-and-forth.
Once you have confirmed your Hill appointments, please record them with your Hill Day registration and inform your State Captain. This is important so National Council staff can help with critical preparation and follow-up.
For additional information, see the National Council's tips for successful Hill Day meetings.
Questions and more information. For questions or additional information regarding PRA's participation in Hill Day or legislative priorities, please email the PRA Public Policy Committee.  For inquiries about Hill Day programming,