You are here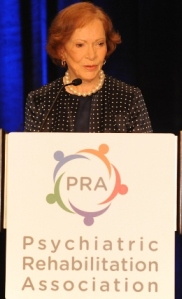 The Psychiatric Rehabilitation Association (PRA) welcomed author, advocate, and humanitarian former First Lady Rosalynn Carter as a keynote speaker at the 2013 PRA Annual Conference in Atlanta, Georgia last week. Through her groundbreaking work at The Carter Center in Atlanta, Mrs. Carter is an acclaimed advocate around mental and behavioral health issues, care giving, human rights, and conflict resolution. 
At her Wednesday, June 12 Keynote Address, Mrs. Carter emphasized the importance of changing the way we talk about stigma by being as open about mental illness as we are about other medical conditions. She also spoke to President Obama's intention to launch a national conversation to understand mental health, especially as it relates to children, which is also one of PRA's leading initiatives this coming year. She lauded the work of PRA's focused role in growing and training the recovery workforce around the globe, a key element of helping to deliver improved mental and behavioral health outcomes.
During the question and answer session following Mrs. Carter's address, in response to a question about Sandy Hook and how this tragedy could reinforce the false stigma linking mental health and violence, Mrs. Carter stated that it is important to educate "people about what mental illness is and that … people with mental illness are almost exclusively victims of violence rather than perpetrators of it."  Mrs. Carter referenced a significant array of programs being undertaken by The Carter Center to help deal with these false linkages and destructive stigmas, including important work with journalists to help them better understand the facts around mental illness in order to help them remove any false stigma or bias from their reporting.
Mrs. Carter emerged as a driving force for mental health when, during the Carter administration, she became active as the Honorary Chair of the President's Commission on Mental Health, which helped to pass the Mental Health Systems Act of 1980. Under Mrs. Carter's continued leadership, The Carter Center's Mental Health Program has successfully promoted awareness about mental health issues, informed public policy, and helped mental health care achieve greater equity in the health care debate while helping reduce stigma and discrimination against those with mental illnesses.
Mrs. Carter's address, at this overflowing gathering of mental health professionals, served to further validate of the essential work of the organizations and practitioners delivering psychiatric rehabilitation programs.  Mrs. Carter was an inspiring component of PRA's trainings-based annual conference program delivered over four days, June 9-12, 2013.