You are here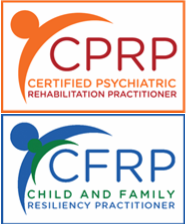 The Certification Commission for Psychiatric Rehabilitation publishes the names of Psychiatric Rehabilitation Practitioners and Child and Family Resilience Practitioners against whom ethical grievances have been filed and substantiated. Publication is intended to provide protection to the public.  You may view the specific record by clicking on the practitioner's name in the listing below.
The following action definitions apply to actions taken by the Ethics & Discipline Committee on behalf of Commission:
Reprimand - a public sanction by the Commission for practice misconduct. A reprimand typically is given for less severe offenses and may require specific follow-up actions by the practitioner.
Suspension - the withdrawal of privilege to practice for a specific period of time.
Revocation - the withdrawal of privilege to practice as a certified practitioner (CPRP or CFRP)
Surrender - the voluntary relinquishment of a certification by its holder. The surrender of a certification shall be accepted only by Consent Order with the Commission.
Individuals who have been disciplined but who complied with Board mandates and have had their credential restored to good standing will be removed from this list.  The discipline action remains in their history and the public record information revealed through the certification/license search will disclose whether or not the credential has been disciplined. For details on a specific action, please submit a written request by email. Please indicate the practitioner's name and ID number in your communication.
---
| Full Name | Certification Type | ID | Location | Dates Certified | Action |
| --- | --- | --- | --- | --- | --- |
| Rick Lopez | CPRP | 4863180 | Nampa, ID (USA) | 11/1/2011 - 05/14/2015 | Revoked (05/14//2015) |