You are here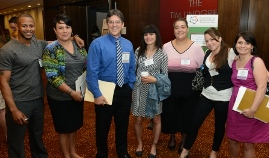 Psychiatric rehabilitation services promote quality of life, community integration, and successful transition to adulthood for children and youth who have experienced serious emotional or behavioral difficulties that significantly impair their ability to function successfully in home, school, family, or community life. Psychiatric rehabilitation services focus on empowering young people and their families to develop the skills and access the resources needed to increase their capability to thrive in the living, working, learning, and social environments of their choice.
If you work predominantly with children of transition age or younger, you can demonstrate your professionalism and competency in the field by earning your Certificate in Children's Psychiatric Rehabilitation, through courses offered both online and in-person. All course work is accepted as continuing education by the National Board of Certified Counselors (NBCC), Association of Social Work Boards (ASWB), American Psychological Association (APA), and American Occupational Therapy Association (AOTA). Please note: The Children's Series do not apply to the training hours required for CPRP exam application or CPRP re-certification.
At the Children's Psychiatric Rehabilitation training you will…
Identify the principles, processes, and skills necessary to help children overcome their unique, individual challenges and succeed
Gain the vital tools necessary to assess and teach critical skills to children
Explore effective ways to support children and strategically involve their families in the process
Foster resiliency in children and help to prevent disability in adulthood
Learn the developmental and psychiatric challenges of children
To earn a Certificate in Children's Psychiatric Rehabilitation, practitioners need to successfully complete the in-person 3-day course or three online courses as follows:
Children's Certificate in Psychiatric Rehabilitation Course
Resiliency and psychiatric rehabilitation services are invaluable to children and their families. Increase your abilities and knowledge as a youth services practitioner by earning your Certificate in Children's Psychiatric Rehabilitation (20 contact hours).
Online Children's Certificate Course
Dates Coming Soon!
Upon successful mastery of the content within this training, you'll be earning your Certificate in Children's Psychiatric Rehabilitation*. This training is ideal if you are a psychiatric rehabilitation practitioner, social worker, counselor, educator, and administrator of programs that provide mental health services to children.
*Receipt of the certificate is contingent upon successful completion of all training requirements, including (but not limited to): reading all assignments before the start of the training; completing individual and/or small group projects in the evenings during the training; and submitting all assignments after the live training portion is completed. Exact details of course expectations will be given to registrants in advance of the training. 
Cancellation & Refund Policy
Cancellation and refund requests for conference, program, training and events registrations should be received in writing. Refund payments may take up to six weeks for processing from the date of your refund request. PRA follows the following policy:
30 days or more (prior to the course start date): PRA will issue a refund for the registration amount minus a $50 processing fee
30 days to one (1) week (prior to the course start date): PRA will issue a refund for the registration minus a $100 processing fee
Within one (1) week of the program start date: No refunds will be provided within one (1) week of the start of the course
Retake Policy
If a course cannot be completed due to an unforeseen act of God or other extenuating circumstances, participants must notify PRA in writing as soon as possible. PRA reserves the right to request supporting documentation and will handle these instances on a case by case basis. If approved, the course may be retaken for a $75 retake fee. Participants that do not successfully complete a course without prior written notice, will not be eligible for retake, but are welcome to reattempt the course at full price.